Affordable Ways to Make Your Wedding Stand Out
Weddings are exciting, unique, personalized affairs that create memories for you, your soon-to-be spouse, and everyone in attendance. However, one of the main wedding-planning limitations is your budget. The cost for the ceremony, reception, and all the extras can add up quickly. The price tag for the average wedding varies depending on the location, but the national average has risen to $29,000.
The good news is that you can save money on a wedding without sacrificing uniqueness. In fact, one of the best ways to create an affordable event is to personalize every aspect of the celebration, from decor and dress to wedding favors and the menu.
Here's how to make your wedding stand out on a budget.
Setting the Scene with a Unique Wedding Theme
A wedding theme can make or break your budget. The choice will guide all your decisions during the planning process. You can set the tone for a memorable and budget-friendly celebration.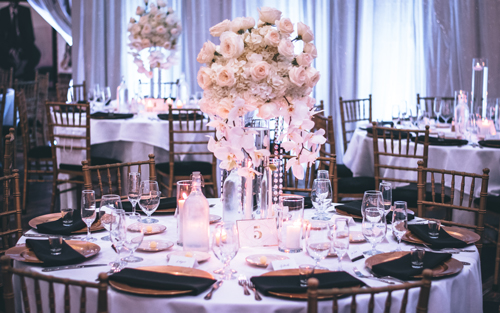 Your wedding theme should fit your style, personality, interests, and passions. A theme focusing on these attributes gets you away from the traditional, formal wedding celebration, which often comes with a higher price tag. Also, your guests will include friends and loved ones who will appreciate the personalized feel of the proceedings.
Here are some examples of themes with budget-friendly potential:
Vintage or retro themes bring a more-casual vibe to the wedding. You can opt for second-hand clothes or items already in your closet instead of formalwear. The same could go for decor and wedding favors.
Beach weddings are possible on the coast or if you have an inland body of water with sandy spaces. The reception can take place on the sand, and inexpensive beers and barbecue food will fit the theme.
Bohemian weddings feature eclectic decor and a carefree atmosphere. This theme permits lots of flexibility with designs (and budget) and allows you to embrace your quirky and creative sides.
You can also opt to choose a theme based on the venues available in your area.
Personalizing Your Wedding Venue
The venue is the most expensive feature of most weddings. It also impacts the overall experience more than any other choice you'll make during planning. It's vital to take time to get the venue selection right.
One option is to choose a sentimental setting. This venue could be a childhood home, a park where you met your soon-to-be spouse, or your favorite restaurant to visit as a couple. Budget-friendly decor options, such as homemade or cherished possessions and photos from your past, fit perfectly with this venue choice. Even without a sentimental venue choice, you can carry the idea of using decorations, displaying pictures, and incorporating stories of your shared past into the decor.
Decor on a Dime
Decor plays an essential role in the wedding experience, but the costs of items like centerpieces and personal touches around the venue can sneak up quickly if you aren't careful.
DIY floral centerpieces and arrangements are one cost-saving decor option. If you plan far ahead, you can grow flowers at home and cut them right before the big day. Harvesting wildflowers is another possibility if you can safely and legally do so in your location.
Meaningful family objects or things with sentimental value for you and your spouse can serve the dual purpose of decorations and conversation starters. You can opt for found items or thrift-store purchases fitting your wedding theme rather than buying new decor.
Unforgettable Wedding Favors on a Budget
You want to balance the cost of wedding favors without giving your guests cheap or poorly-made gifts. As with the other aspects of your wedding, the key here is to provide meaningful and memorable keepsakes instead of expensive ones.
Instead of just offering inexpensive items, you can personalize them. For example, you might provide guests with a tea towel with your favorite recipe printed on it, bottle openers with each guest's name, or drink coasters with printed cocktail recipes.
You might also consider DIY favors. For instance, you can purchase bulk candies and package them yourself in inexpensive mason jars. You can try the same with herbs, flower seeds, tea, or coffee.
Customizing Your Wedding Menu
Catering is a major expense for all weddings, but it doesn't necessarily have to be. Rather than offering the usual wedding catering fare, you can opt for something unique that will give guests a memorable eating experience while also maintaining a modest budget.
Catering Alternatives
Here are some alternatives to a more traditional, sit-down-style wedding meal:
Rent a food truck;
Serve food via a buffet-style setup;
Host a casual potluck-style reception where guests bring their favorite dishes;
Serve pre-packaged meals from your favorite restaurant.
While you do not want to be concerned about cooking your wedding meal or asking family or friends to do the job, you can save by purchasing frozen or premade sides to heat up during the reception.
Unique Beverage Stations
An open bar can cost thousands, but most guests will expect drinks during the reception. Here are some alternatives to having an open bar:
Create a cocktail station where guests can mix beverages themselves;
Use inexpensive wine and spirits, but create unique labels for them;
Offer craft wine or beer tastings instead of an open bar.
If you purchase alcohol yourself instead of relying on a caterer, you can avoid markups and staffing costs.
Choosing the Right Wedding Rings
Couples often see wedding rings as a necessary investment because it signifies their commitment to one another and shows their marital status to everyone else.
Symbolism Over Price
Material options are not limited to gold and silver. Here is a look at the most common wedding ring band materials.
Gold: This traditional rare metal is excellent for storing value. However, it comes with a higher price tag. Skilled artisans can shape and engrave gold, but it can get scratched and worn with daily use.
Silver: This is a less expensive wedding ring option, and it is less durable than gold.
Tungsten: This is an extremely durable rare metal. Diamond, the only harder substance, is the only thing that can scratch tungsten. Though it is difficult to size and does not store value as readily as gold, tungsten's longevity and hardness make it a great symbol of unbreakable love.
Zirconium: This inexpensive non-native metal is highly malleable and very durable (though not as strong as tungsten), making it an excellent option for those seeking a specific design.
Tungsten rings are priced in the hundreds of dollars rather than costing several thousand dollars like traditional precious metals. The unscratchable, long-lasting metal provides the ideal balance between meaningful symbolism and value. Regardless of which material you choose, you'll want to work only with a reputable ring vendor who can guarantee longevity and quality.
Personalizing Your Rings
Rings can be a major expense. Yes, they're meant to last an entire lifetime, but you can opt for more meaning instead of more carats. One of the easiest ways to accomplish this is to personalize your spouse's ring with an engraving. A laser engraving service can place names, dates, meaningful quotes, or personal messages on the ring.
Captivating Photography on a Budget
Wedding photography is a worthwhile expense. You will likely be too busy to document everything yourself, and family and friends will want to focus on enjoying the experience themselves instead of concentrating on taking pictures.
A professional photographer with wedding experience will get all the shots, but you'll pay a premium for the pictures. You can get great results by hiring someone with less experience but the necessary photography skills. For example, you could hire a photography student for less than a professional. A skilled hobbyist may also produce good results for a more modest fee.
Making Your Wedding Uniquely Yours
Weddings are wonderful and memorable events, but you don't have to spend excessively to create lifelong memories. You can personalize almost every aspect of your nuptials, putting a premium on personal meaning rather than glitz and glamor.
By focusing on your unique qualities and stories as individuals and a couple, you can make memories for yourselves and your guests no matter how much you spend on your celebration.