10 Ways to Save Money on Your Wedding
Planning a dream wedding may be more expensive than you thought — but don't stress just yet! There are plenty of ways to save on wedding expenses that still allow for a perfect day without hurting your wallet.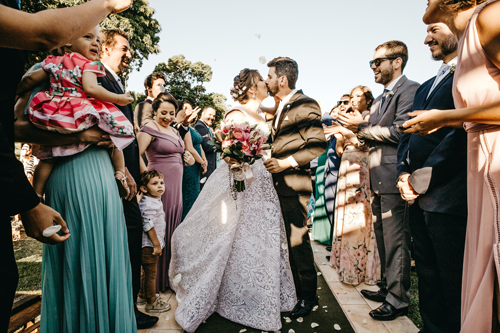 1. Go for the Off-Season
Weddings are more popular from April through October. Having a wedding during the off-season (November through March) could potentially reduce the cost of your venue. You may not have always dreamed of having a wedding during one of these months, but doing so could help you save big.
By planning a wedding in the off-season, you improve your chances of landing a venue — otherwise, you're looking to compete for space with other wedding parties and event-planners.
2. Steer Clear of a Weekend Wedding
Hosting your wedding on a Saturday may increase the cost of your venue, vendors, and photographer since the weekends are typically in high demand. If you're set on having it on a weekend, plan for either Friday or Sunday. However, if you're flexible on the date, then aim for a weekday, especially if you're wanting to save on expenses.
3. Trim Your Guest List
Talk to your future-spouse about the idea of having a smaller, more intimate wedding with fewer guests. Instead of allowing plus-ones and extended family, only invite your closest loved ones. This can help you stay within budget and cut down on the stress of planning a bigger wedding.
If you opt for a smaller in-person guest list, you can always live stream the wedding so that extended friends and family are able to watch the ceremony from the comfort of their own homes.
4. Host Your Entire Wedding at One Venue
It's not uncommon for couples to have their ceremony at one location and their reception at another. Combining the two and having them at the same location can cut your expenses. It will also reduce travel time for your vendors and guests.
5. Ditch the Floral Decor
Swapping out floral arrangements for other decorations can save more money than you might expect. However, if a floral motif is a part of your theme, try purchasing faux greenery and flowers instead. This is a sustainable option that allows you to reuse the flowery decor down the road for other occasions.
This also simplifies the logistics of acquiring and displaying the arrangements — depending on timing and your location, live floral arrangements could be subject to stress due to weather, and you face the prospect of vases full of water at every table or aisle. Faux floral decor means no potential for spilling, wilting, or other such natural variables.
If faux floral decor isn't your style, that's okay — there are still ways to include flowers at your reception for a lower cost. This can be done by swapping out more expensive flowers with ones that are in season. Discuss with a local florist to see which stems and blooms they recommend that fit within your budget.
6. Skip Out on the Open Bar
An open bar may not be an accommodation that fits your budget. If serving alcohol at your wedding is a must, there are ways to do so without breaking the bank. For example, you can:
Offer to pay for one or two of the guest's drinks — anything after that they will be responsible for paying (ideal if your venue has a bar and bar staff);
Refrain from offering hard alcohol and instead purchase beer, wine, or champagne in bulk;
Have guests bring their own beverage (BYOB). This option is rather untraditional but is a great way to save money.
7. Choose Your Jewelry Wisely
While choosing the perfect engagement ring is generally a step that happens before you begin wedding planning, it can still be an expense that you include in your wedding budget. Engagement ring and wedding band trends are always evolving and changing. It is becoming more common to purchase nontraditional rings, like women's wedding bands and tungsten rings, that may not cost as much as other designs but still allow for customization.
8. Send Out E-Invites Instead of Stationary
Emailing or texting invites is an inexpensive and easy way to inform guests of your up and coming event. There are various websites that allow you to send e-invites to your guests for little to no cost. Some popular e-invite websites include:
Not only are e-invites cost-effective, but they're eco-friendly as well!
9. Be Your Own DJ
Instead of hiring a band or DJ, create a wedding playlist using a music app (i.e. Spotify, Pandora, Soundcloud) and be in total control of your own music. This allows you to play the music that you want to without any limitations, take guest's music requests, and ensure that the right song gets played at the right time.
10. Thrift for Your Decor
People often donate or sell leftover decor from their weddings. Instead of buying these items brand new for your own nuptials, shop around at local second-hand stores or browse through Facebook Marketplace for decor that will fit with your theme.