How to Live Stream Your Wedding
There are many questions to consider when preparing for an engagement and a wedding. Should the proposal be coordinated or a complete surprise? Should you plan a big wedding or an intimate affair? Will you wear a wedding band or just an engagement ring? If so, what do you want your wedding band to be made out of (i.e. chrome, steel, or tungsten)?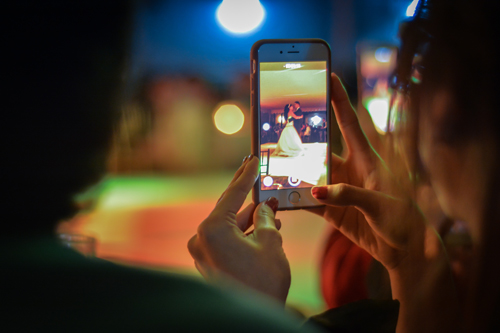 You also may have to decide on a vendor, select a color scheme, create a guest list, and much more, all of which is stressful enough — throwing in unsuspecting factors, such as a global pandemic or an inability to host large gatherings, makes matters even worse.
When faced with a decision that may disclude having a face-to-face wedding, some couples may choose to postpone; others may decide to go with the flow and continue with their plans—but with a few changes.
Live streaming your wedding helps to ensure guests both near and far are still able to be a part of your big day, all from the comfort of their own homes. Listed below are tips to follow to help make your big day the best day yet, despite it being hosted online.
Give Your Guest a Formal Invitation
Don't let your virtual wedding deter you from sending your guests a formal invitation. This can provide them with the information they need to join in on the live stream, for example, which streaming platform to use, what time to log on, usernames or passwords that are needed, when it will end, and whether or not it is being recorded so they can access it afterward.
You will also want to tell them whether it is a watch-only service or an interactive live stream. If it is watch-only, guests will not be able to comment/interact with the couple during the stream. This way guests can prepare accordingly.
Create a Timeline
There are many elements to the typical wedding day timeline — this is no different for weddings that are being streamed live. This includes allotting time for final touch-ups, last-minute rehearsals/speech practices when to give your engagement ring and wedding bands to the officiant, and other timely tasks. Other elements to make time for when planning to live stream your wedding include:
Guest log-in times;
Welcoming speech;
Officiant speech;
Vows;
Closing speech;
End of the live stream.
Choose a Streaming Platform
There are multiple live streaming platforms to choose from. Before the wedding, it is important to research each to see which one is more compatible with your internet, streaming device, and timeline. Streaming platforms that you can live stream your wedding on include:
Designate Roles
Part of planning for a virtual wedding entails assigning roles. Aside from the basic help needed (i.e. setting up and tearing down), you will need to find trusted individual(s) to help with the live stream itself. This includes finding someone that is willing to record the ceremony and ensure that everything goes according to plan.
Make sure to provide them with a copy of the timeline, as well as an easy-to-follow guide on how to operate the device that you are using to stream and any other technology that may be involved.
Don't Just Set and Forget the Camera
It is important to give your guests more than just a static view of the altar. Just as you might hire a wedding photographer, designate an individual to bring the camera around the venue to get closeup shots of the decor, design of the cake, detail of your tungsten wedding bands, tailored outfits, and anything else they may not get a full/close view of in a static wide shot. Not only does this allow your guests to see what you spent so much time planning but it also is a way to document your big day to replay forever.
Prepare Your Recording and Audio Devices
One of the most vital parts of preparing for a wedding that will be live-streamed is to make sure that all recording and audio devices work well and are completely charged. Provide the designated individual who is in charge of recording the live stream with plenty of batteries and chargers, just in case.
Preparing your recording and audio devices also means to select a location where the streaming station will be set up. Make sure that any tripods are on flat surfaces, and if need be, extension cords are able to reach.
Take into consideration how your devices are angled and image the point of view that your guests will be at when setting up. If you are wanting guests to virtually interact with you during the ceremony, you may want to set up at a location that is easy for you and your partner to hear them. However, if it is a watch-only service, setting up at a further distance, yet still close enough to hear, is fine as well.
If the ceremony is outdoors, create either a back-up plan or ensure you waterproof your electronics to ensure nothing gets damaged or shorted out.
Perform a Test Run
Most importantly, you will need to rehearse before the wedding begins. While most rehearsals take place the night before, it would be in your best interest to conduct multiple tests days before the wedding, as well as briefly on the day of, to make sure the devices are running, guests can see and hear you, there are no obstructions in the way, and that everything else will go according to plan. It is also important to test your live stream without actually going live.
Your wedding is a day that is meant for you and your partner. Don't let unpredictable stressors ruin your moment. Instead, embrace them as they come and prepare for all the day may have to offer — including allowing your guests to still be a part of your big day courtesy of a live stream.