Tungsten Rings Center offers you an array of beautiful wedding bands for him and her at great prices. Durable and stylish, this is the perfect symbol of the commitment you share with that special someone in your life. Rings created with the unique metal tungsten carbide will last a lifetime - a guarantee we stand behind. And to help you make the right choice, these rings also come with a 30 day return policy. Add to that lifetime sizing. With so many choices choosing the right ring for this momentous occasion could not be easier and stress free.
Our Men's rings selection has something to please everyone. Rugged and durable for him to enjoy everyday yet handsome and stylish for her to enjoy slipping on his finger on that special day. Designs range from modern and contemporary to traditional and classic. Tough enough to stand up to everyday activity these rings are designed to be a stylish reminder of that commitment you both share from that day forward.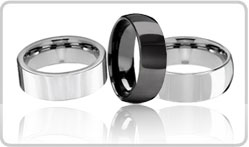 Our Women's ring selection are designed with the modern women in mind. Sophisticated and elegant, thin and lightweight, these beautiful wedding bands are out of the ordinary. There are also his and hers matching band design for that added bond of unity. The durability of tungsten insures a ring that will last a lifetime and the stylish design will make you proud to wear it every day.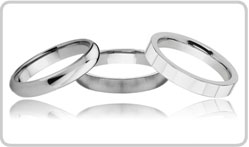 A Complete Guide to Hypoallergenic Jewelry Allergic reactions can occur when your body responds negatively to something it comes in contact with. Common types of allergens include foods like peanuts or triggers like pet dander and pollen. M ... Read More
How to Choose Wedding Rings for an Active Lifestyle The wedding bands that you and your partner exchange reflect your relationship, individual personalities, and lifestyle. While it's easy ... Read More