Style Coordination Tips for Company Events
The idea of "dressing for success" still matters. Workers with clean, coordinated, and fashionable clothing leave a good first impression at corporate events. Their appearance creates an image of competence and confidence.
A study published in the Journal of Experimental Social Psychology in 2012 showed that people who dress for their profession are more confident in work settings. Simultaneously, a 2019 survey by staffing company Randstad found that dressing too formally gives the impression that you are out of touch with convention and the culture of your company or industry.
When you attend a corporate event, you need to understand the dress code and coordinate your apparel and accessories to create the desired impression.
Understanding the Event Dress Code
The first step in coordinating style for company events is understanding the appropriate clothing for the occasion. Many companies list a dress code or attire suggestion in the event announcement or invitation.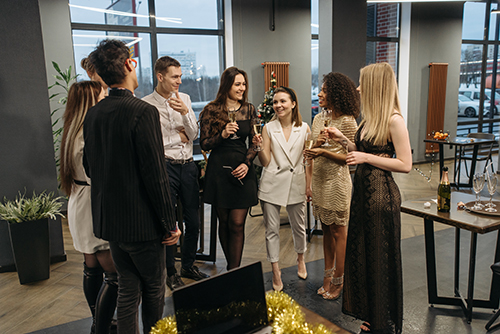 Attire categories can be somewhat confusing. For instance, business casual and smart casual have different means, despite some overlap.
Job search site Indeed explains five of the most common dress code categories: casual, smart casual, business casual, business professional, and business formal. Here is what each means.
Casual dress is t-shirts, jeans, shorts, comfortable skirts, sweatshirts, or sweaters. Sneakers, sandals, and open-toed shoes are acceptable.
Smart casual attire includes long-legged trousers or skirts, button-down shirts or blouses, clean sneakers or dress shoes, and accessories like tasteful jewelry, watches, and belts.
Business casual is similar to smart casual, but you should avoid sneakers, jeans, or shorter skirts. Collared shirts or blouses, scarves, and sports jackets can be part of your ensemble.
Business professional settings require a suit and tie or a skirt, blouse, and blazer combination. Dress shoes are appropriate for these settings, and you can also add accessories like handbags, jewelry, or watches.
Business formal events require a tuxedo or three-piece suit for men and a pantsuit or evening dress for women. Accessories like jewelry, cufflinks, belts, and watches are also appropriate.
Even if the dress code is casual, you should coordinate your style so you leave a good impression regardless of the setting.
Selecting Appropriate Attire
Appropriate attire gives you a chance to make a good impression with your apparel and accessory choices while also showing you are in tune with the culture and tone of the event.
Regardless of the dress code, it's vital to use matching colors, appropriate sizes, and accessories for a well-coordinated appearance during the event.
Professional Clothing Choices for Men
Men should always opt for clean clothing that isn't worn out, even when the dress code is casual. Clean footwear and pants without rips or frayed bottoms help you show you care about your appearance and are competent in your clothing choices.
You can avoid clashing tones by using a color wheel to select the different parts of your outfit. This tool, based on the original color coordination system created by Isaac Newton, is what fashion designers use to select colors for their creations.
You typically want to opt for neutral colors and subtle patterns. This approach is especially important in business professional and business formal situations when dark suits and unstated ties are required.
Color coordination strategies are the same for both men and women in a business setting. However, there are a few differences in apparel choices. For instance, it is usually acceptable for women to wear open-toed shoes and more jewelry in professional or formal settings. In almost every case, though, the clothing choices and requirements are equivalent regardless of gender.
Professional Clothing Choices for Women
The same rules apply to women as to men in terms of selecting clean attire that isn't ripped, frayed, or faded. A color wheel can assist in choosing the right tones and patterns. Accessories or jewelry can also match the hues of your outfit.
Women can choose from skirts, dresses, suits, or pants for office wear. If you opt for skirts, you should consider style and length. Rules and norms vary depending on the situation, but in general the more formal the setting, the longer the skirt or dress should be. Though opinions vary, you can fit in most professional settings with skirts just above or at knee level.
In more formal business settings, it is best to opt for neutral colors and darker hues, especially when opting for a pants suit or blazer.
Both men and women have the option to get creative with their accessories. The right jewelry, rings, and handbags can create a polished, and sophisticated appearance.
Accessorizing for a Polished Look
Accessories can add to your apparel choices to give you a polished, well-rounded look regardless of the dress code. In addition to avoiding color clashes, you want to avoid oversized jewelry or accessories that overshadow your outfit.
Here are some specific accessory recommendations for professionals.
Men's Accessories for Corporate Events
In most company events, men need to opt for subtlety. For instance, if you are wearing a tie, it's best to opt for a neutral color and subtle patterns. Here are some other possible accessories.
Cufflinks with engraving or enamel or stone insets;
Pocket squares, which typically match your tie;
Rings, which you can coordinate with your cufflinks and watch;
A watch.
These elements allow you to stick to convention while adding personal touches to your outfit. Done correctly, these elements will add a sense of style and sophistication to your image.
Women's Accessories for Corporate Events
The same rule of subtlety applies to women at corporate events. However, earrings, bracelets, necklaces, and handbags provide more opportunities for style coordination.
The University of Maryland's Robert H. Smith School of Business points out that accessory rules can vary by industry. If you are in a creative profession, eye-catching accessories can help highlight your professional skills. However, these choices would not have the same effect in sectors like finance or law.
Here are some common accessories for women in business event settings.
Handbags, which should color-coordinate with the outfit;
Earrings, with small and medium options usually preferable;
Bracelets and necklaces;
Rings that don't clash with other accessories.
Other accessories, such as something worn in your hair, are typically acceptable if you opt for subtlety and tastefulness.
The Stylistic and Ethical Appeal of Tungsten Rings
Tungsten rings are an excellent example of the type of accessory that fits in a corporate setting. This jewelry has a subtle but eye-catching appearance. It has an iron-like appearance in its natural form, but men's tungsten rings can be plated in gold, black, white, or other hues.
Tungsten rings are highly durable, and scratch-resistant than any other material on earth except for diamond. Both men's and women's tungsten rings are inexpensive compared to precious metals like gold and silver. However, the unique appearance and clean look of this rare metal will catch attention nonetheless.
Finally, unlike some other jewelry materials, tungsten is not sourced from conflict zones. It is also eco-friendly because it is non-toxic and doesn't release minerals in water.
Making a Statement with Your Style
You can create a good impression at company events by understanding the dress code and selecting clean, color-coordinated apparel and accessories that meet the occasion's style requirement. You can then round out your look with jewelry and accessories.
Business settings usually require an understated but well-coordinated sense of style. The subtle, sophisticated look of a tungsten ring is a good example of the kind of style you need to give the right impression at a business event.