How To Coordinate Your Outfit With Your Jewelry
Putting an outfit together is often a challenge to begin with even without factoring in accessories like jewelry. This may leave many people uncertain about how to incorporate jewelry into certain outfits, if at all. However, while jewelry is not a necessity, it can add fun and interesting flair to an ensemble, and therefore it may be to your benefit to better understand how you can include certain pieces. Luckily, there are a few basic steps you can take to gain a better understanding of how to coordinate jewelry with an outfit.
Consider the Type of Occasion
Perhaps the first step you should take is to consider the occasion that you are dressing for. For example, if you are dressing for a formal or professional event, you may do better to choose high-quality, relatively understated jewelry. Meanwhile, if you are going out to have some fun with friends, it may make more sense to try out more casual or dramatic pieces, as your preference goes. However, the specifics will depend on other factors relating to your outfit.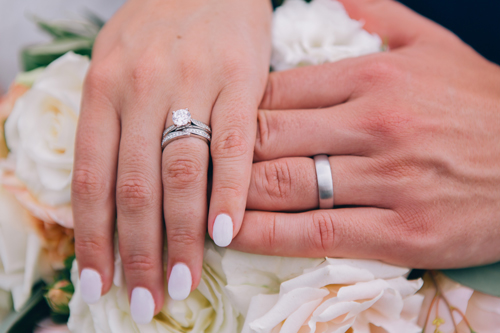 Determine What You Want to Convey With Your Outfit
While guidelines can help you determine how to coordinate your jewelry with your outfit, much of the specifics depend on your unique style. As such, one thing that you should consider when putting together an outfit is what you want to convey about yourself with your outfit.
For example, if you want to demonstrate a playful personality, you may want to choose colorful or unusual pieces of jewelry. Meanwhile, if you want to convey a more serious or classic look, you may be better served by choosing jewelry that is more understated or has otherwise stood the test of time in the fashion world, such as stud earrings, simple pearl necklaces, or sleek watches.
Consider Incorporating a Statement Piece
A statement piece is something that draws attention and is meant to convey something about the wearer. Typically, a statement piece will contrast with the rest of the ensemble, so as to further draw attention to the piece.
It should not necessarily clash with the outfit, but more so, will often be a comparatively dramatic or noticeable piece compared to the rest of the ensemble — for example, the pairing of a dramatic, colorful, jeweled necklace with an otherwise classic suit. As demonstrated in that example, a statement piece can also be used to give a fresh spin to a more standard or classic look.
Don't Be Afraid to Create Contrasts
As mentioned, contrasts can draw attention to various components of the outfit, or the outfit at large. This can be accomplished in many different ways, such as mixing and matching different colors, shapes, and patterns. The use of contrasts can also be used to convey a fun or quirky personality. An example of using jewelry as contrast would be pairing a relatively simple shirt and cardigan with a set of dramatic rings with unusual shapes or interesting gems or decorations featured.
Consider a Theme
A theme is any larger concept behind an outfit that the ensemble is being built around. This theme could be approached in a more dramatic way so that the outfit is ultimately more costume-like, or in a more subtle way, so that the outfit is more generally wearable.
For example, if someone were to use Valentine's Day as their theme, they could incorporate more dramatic pinks and reds as well as noticeable hearts and frills, or they could simply incorporate some subtle pinks into their makeup and outfit, as well as a few understated hearts. In terms of jewelry, they may utilize rose gold pieces as well as pieces that display hearts.
Develop a Coordinated Color Scheme
Depending on the overall goals for your outfit, a coordinated color scheme could be approached in a variety of ways. For example, you could either use colors that traditionally match well (e.g. blacks and grays) or you could use contrasting colors that mix well (e.g. blues and pinks).
Furthermore, you can consider what color combinations typically are used for certain occasions or to convey certain ideas. For example, the combination of black, gold, and white is traditionally often used to convey a classic and refined look. It may also be beneficial to consider the psychology of different color schemes when building an outfit.
Consider the Season
Some looks and color schemes are associated with certain seasons. For example, pastels are associated with spring, while darker earth tones are associated with autumn. Meanwhile, loose, airy clothing is often used for summer outfits, which may be complemented by loose, casual jewelry, such as long necklaces and charm bracelets.
Follow Fashion Trends
Fashion is constantly evolving, and therefore it can be helpful to keep up with fashion trends. Doing so can not only allow you to be informed about emerging styles but also be more aware of what items may be widely available on the market. It may also be helpful to follow design and style trends relating to men's jewelry and women's jewelry, as the situation may call for, but also follow wider trends in general.
Carefully Choose Items You Intend To Wear Every Day
Some people choose to wear certain items every day or almost every day. A common example of this is engagement or wedding rings. In such cases, it may be to your benefit to keep in mind that you will be wearing this item with most outfits, and choose the item accordingly.
This can be handled in several ways, but perhaps the best is to choose a style that will go with virtually anything, or just to simply choose something that you like so much that you won't mind wearing regardless of the rest of the ensemble. It will also be important to choose something that is constructed of highly resilient materials so as to minimize wear and tear.
Review How Shapes Complement Each Other
It is important to consider not only how colors and patterns mix together, but also how shapes mix together. For example, clothing that features a lot of angles and straight lines may work well with pointed jewelry, whereas clothing that features circular patterns and rounded shapes may work well with spherical jewelry. Shapes in clothing can refer to shapes featured in the print, shapes formed by the silhouette, or the shapes of the accessories.