How To Make a Wedding Budget
Weddings can be a huge expense, and for some couples, can be the culmination of years of saving. While wedding costs have come down in recent years, the average cost of a wedding, according to Business Insider, is still well over 10 grand. Of course, this is just the average — depending on you and your partner's specific circumstances and desires, your wedding may end up being more or less.
To better handle this cost, you should sit down with your partner and create a budget. Creating a budget can help break the cost of your ceremony and reception down. Additionally, a budget will give you a realistic number you can afford to spend on your wedding festivities and be a guiding principle when it does come time to book things.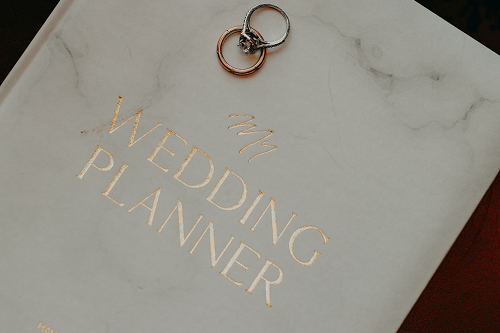 What Should Be In Your Budget?
Breaking your ceremony and reception down into separate costs when planning your wedding can give you a more approachable sense of cost. You may add or omit things from this list depending on the type of ceremony you're having, your culture, and the traditions around your wedding. However, you can generally budget for your wedding based on some of these basic amenities and services.
Decor
You can choose to rent, buy, or even create your own decor — and each option will have its own cost. Your decor may include a variety of items, such as:
Centerpieces;
Flowers;
Draperies;
Aisle runner;
Lighting;
Place cards;
Accessories (signs, photos, activities).
These are just a few examples of decor that you might want for your wedding. You can find several more specific decor checklists to help inspire and ensure that your ceremony and reception are decked out to your liking.
Food and Drink
This can be one of the biggest costs associated with a wedding, especially if you're hosting a large group. Some venues offer catering services along with the price of the venue, while others require you to provide your own. Make sure you check which your venue offers before deciding. If you have to provide your own food, here are some questions you should ask yourself:
How many meal options will you provide?
How many courses?
Will you have a cocktail hour?
Would you like more casual cutlery or fine china?
Will you have bar service, and if so, what kind?
Am I willing to put in extra work for food setup to mitigate costs?
All of these factors will help determine the price. If you're looking to save money on your wedding, you may consider creating a potluck, making dinner and dessert yourself. This can add a homey, personal touch to your ceremony.
Venue
This can be another big ticket item for your wedding that all comes down to you and your partner's taste. If you want to rent out the Natural History Museum in New York then you can expect a higher price tag than a local park.
Certain venues may also have strict stipulations, such as guest counts, what can and can't be brought onto the grounds — fireworks, for example — and so forth. It's important to read thoroughly any rental agreement with your venue completely, so you understand what you're agreeing to do on a property you don't own.
Vendors
Weddings often have people who work them, from planners to photographers to the catering staff. Depending on your staffing needs, this can be a big expense. Other vendors your wedding might have include:
Makeup and hair artists;
Videographer;
DJ or band;
Bartenders;
Officiant;
In some cases, you may be able to source these roles out to your friends and family. This can be a great way to save money, and make your wedding that much more meaningful.
Attire
This can include wedding bands for both the bride and groom, wedding outfits for the marrying parties, and even alternate outfits for the reception. There is a lot of debate in the wedding community about who should pay for bridesmaids' or groomsmen's attire.
While it's ultimately down to your discretion — as well as your budget — it's important to make your expectations clear to your wedding party early on to avoid resentment within the bridal party. Budgeting restrictions are just one of the reasons that mismatched bridesmaid dresses have become popular because bridesmaids can opt for a cheaper outfit if they only have to work within a certain color or fabric.
Miscellaneous
It's always prudent to have a miscellaneous or emergency section of your budget. This can help with any last-minute surprise expenses, such as replacing torn pants, renting a tent for sudden rain, running out of ice, or any other unexpected needs.
There is a lot of social pressure on weddings to be perfect, and having this kind of discretionary fund can help relieve some of that pressure. This shouldn't be a huge part of your budget. A great way to build this fund is to take any extra funds from other wedding budget categories and use them here.
How To Pay For Your Wedding
Saving for big events, such as a wedding, can seem very daunting, and even cause anxiety if you're working on a shorter timeline. However, there are some things that you can do to make it easier. This can include:
Automating deposits into a dedicated account on a scheduled date;
Putting any extra cash, rebates, or other "surprise" money away;
Picking up a side hustle, such as dog sitting or bartending;
Asking for cash in lieu of gifts, to pay off any debts incurred from wedding expenses.
Practicing a "no spend" month in order to bulk up savings.
These are just some of the ways that you can tackle the financial commitment of a wedding. Again, just like your relationship, your budgetary needs will be unique to you. If you're concerned about budgeting for your wedding, you may sit down with a financial planner who can help you with the process, or look up templates online to get you started.